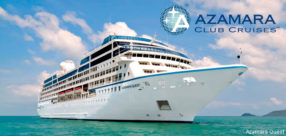 Itinerary
Wednesday 8 August
Embark on the Azamara Journey this afternoon in Copenhagen. Welcome cocktails & an evening briefing will occur once all are aboard.
Thursday 9 August
You will arrive into Berlin this morning, a spectacular city in every sens of the word. Home to the impressive Brandenburg Gate & Reichstag buidling, Berlin has plenty to offer in terms of bars & restaurants. Take a walking tour from one of the many, well-informed, guides will teach about WWII & the Cold War.
The golfing begins today at Winston Links. This highly acclaimed new course opened in 2011 & was quickly declared Germany's best course the same year. It was styled to match that of a British course, featuring undulating fairways, hard greens & deep swales. Furthermore, 30 foot high dunes & tricky bunkers are littered throughout to keep you constantly challenged. Please note that this is a waling course & does not offer a caddie service. Pull carts are available & included with this package.
Friday 10 August
The day is spent at sea, with arrival into Gdansk scheduled for the late evening.
Saturday 11 August
Enjoy a full day in Gdansk, today. Located on the Baltic coast of Poland, Gdansk was mostly destroyed in the War, but has rebuilt itself among what is left. Relax in a beer garden or restaurant along the beautiful coastline to take in the full effect of the Baltic Sea.
Sunday 12 August
A full day at sea. No golf, no sightseeing, no worries! Enjoy the ship & share in the delights that are on board.
Monday 13 August
Arrive into Tallinn, Estonia, today. You can visit St Olav's church (one time tallest building in the world) & pull up a chair at a cafe in the charming town square.
The golfing continues at the Estonian Golf & Country Club. Opened in 2005, it has become a staple in Golf World Magazine's top 100 European Courses. The locals say that when God created this coast line, he must have been a golfer, such is the harmony with which the course winds its way along the Baltic Coast. Please note that there are only a limited number of golf carts available & will be allocated on a "most need" basis. This is an easy walking course & pull carts are provided for all walking guests.
Tuesday 14 August
Arrive into St Petersburg, one of the world's most beautiful cities & certainly a destination on all bucket-lists. Its architecture is lavish, opulent & rich. From golden-domed churches, to elegant palaces, you are sure to be amazed at every turn. Do not fear about trying to squeeze everything into this day as you have 2 more glorious days ahead.
Wednesday 15 August
Today, the golf will be at Gorki Golf Club, the first & only championship golf course in the northwest of Russia. Fully opened in September 2015, it is constructed to the highest possible standard, complete with a two-storied clubhouse. A day to remember is assured. Please note that there are only a limited number of golf carts available & will be allocated on a "most need" basis. This is an easy walking course & pull carts are provided for all walking guests.
Thursday 16 August
A final day in St Petersburg to enjoy as you see fit. Guests can tick off the all major sights missed when they arrived into St Petersburg.
Friday 17 August
Arrival into Helsinki this morning, with its beautiful blend of modern & traditional architecture. Classic Russian domed churches share the stage with classic Nordic minimalism & Helsinki has a large concentration of Art Nouveau buildings.
Your golf today will be played at Hirsala Golf Club, set among classic Finnish forest land. It is recognised by the Golf Environmental Organisation to preserve the biodiversity of the area. Moral golfing!
Saturday 18 August
Arrival into Stockholm today where you will be met with modern Scandinavian architecture with fairytale palaces. Two thirds of Stockholm is devoted to green space & waterways, meaning that there is lots of room to breathe & enjoy the scenery during this picturesque time of year.
Your final round of golf on your trip will take place at Bro Hof Slott GC Stadium Course. Opening in 2007 & sitting on the spectacular grounds on the edge of Lake Malaren, this course is judged to be Sweden's best & 54th best course in the world. Notable tournaments have seen Lee Westwood claim the 2013 Nordic Masters.
Sunday 19 August
Disembark the Azamara Journey this morning. Feel free to contact one of the team with any extension plans.
---
Package Inclusions:
11 night tour aboard the Azamara Quest travelling through Lisbon, Portimao, Seville, Gibraltar, Malaga, Valencia & Barcelona
5 rounds of golf:

Winston Links
Estonian Golf & Country Club
Gorki Golf Club
Hirsala Golf Club
Bro Hof Slott GC Stadium Course

Green fees & starting times including shared golf cart (where applicable)
All transfers to & from each golf course
Use of range & practice balls
Welcome & farewell on-board cocktails & hors d'oeuvres
Box lunch at each course with open bar for soft drinks, beer & wine
Casual tournament with awards
Management & handling of golf equipment for duration of voyage
All gratuities for golf related staff & drivers
Full time golf programme manager on board & at each site
Breakfast, lunch & dinner while on board the ship
Soft drinks, specialty coffees & teas while on board
Selected spirits, international beers & wines during regular bar hours
Gratuities
Shuttle service to & from port communities
Please note that a Russian Visa is not included in this package, unless booking an excursion. Please discuss with the team for further information.
$7,545 per person – based on a double/twin occupancy in an Interior Cabin
$8,245 per person – based on a double/twin occupancy in an Oceanview Cabin
$12,245 per person – based on a double/twin occupancy in a Suite Cabin
Port fees & taxes are an additional $258 per person.
Book now with a $1,850 per person deposit. All packages are subject to availability.
---
being there, it's EVERYTHING!
ENQUIRE NOW