Ireland Golf Tour with Richard Mercer
28 Jun – 8 July 2018
Ireland is justifiably famous for a number of things – the people, the scenery and the sights. It's also one of the world's leading destinations for golf. A golfing trip to the Emerald Isle will not only convince you of Ireland's golf pedigree, it will also challenge any perceptions you had about the quality of the great game in Ireland.  Internationally, Ireland's commitment to golf was rewarded with the staging of the Ryder Cup 2006, and was also named International Golf Destination of the Year 2004 by the International Association of Golf Tour Operators. With over 400 golf clubs including a third of the world's natural links courses, and a slew of exceptional championships courses in spectacular locations, it's no wonder that Ireland attracts over 240,000 golfers from all over the globe each year.  Why not join them in 2018… we have put together a fantastic itinerary for our trip to Northern and Southern Ireland and have included Royal County Down (#1 in the World – Golf Digest 2017) as well as established favourites such as Druids Glen, Fota Island and Old Head – it`s fair to say this is an amazing itinerary which will test your skills and stimulate your senses!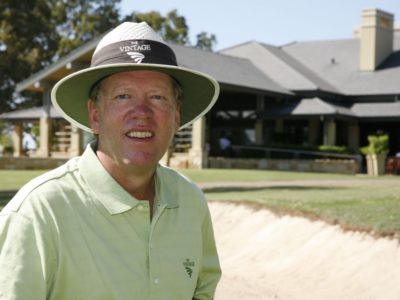 Richard Mercer has been a member of the Australian PGA for over 30 years. He has played on the Australasian, Japanese and European tours (including the 1984 British Open at St. Andrews, Scotland). Today Richard is the director of the Richard Mercer Golf Academy at The Vintage in the Hunter Valley where he has been nominated NSW PGA Instructor of the Year three times. Here, Richard shares his passion and love of golf with others – from beginners to fellow professionals. When he is not teaching, Richard is busy with his hosted golf holidays, taking groups to the US Masters and the Players Championship, amongst other top golfing destinations. As an ambassador of The Golf Touring Company, Richard escorts the 'bucket list' trips overseas which have taken him to The Open at St Andrews, The US Masters, Presidents Cup in Korea as well as Ireland. With such a positive energy and limitless enthusiasm, Richard will always deliver a 5 Star Experience!
DAY ONE – 28 JUNE 2018
• Arrive into Belfast International Airport
• Please make your way to our hotel – Approx 10 mins
• A welcome dinner has been arranged for this evening to meet your fellow golfers
• Overnight – Belfast – The Culloden Hotel.
DAY TWO – 29 JUNE 2018
• Breakfast
• Transfer to Royal County Down for Golf – Approx 1hr
• Overnight – Belfast – The Culloden Hotel
DAY THREE – 30 JUNE 2018
• Breakfast
• Afternoon Transfer to Ardglass for Golf – Approx 1hr
• Overnight – Belfast – The Culloden Hotel
DAY FOUR – 1 JULY 2018
• Breakfast
• Check out and Transfer to Dublin – Approx 2 Hrs
• Rest of Day & Evening Free
• Overnight – Dublin – The Morrison Hotel
DAY FIVE – 2 JULY 2018
• Breakfast
• Transfer to Portmarnock for Golf – Approx 30 Mins
• Evening Free
• Overnight – Dublin – The Morrison Hotel
DAY SIX – 3 JULY 2018
• Breakfast
• Transfer to Druids Glen for Golf – Approx 1 Hour
• Attend Riverdance in Dublin
• Overnight – Dublin – The Morrison Hotel
DAY SEVEN – 4 JULY 2018
• Breakfast
• Check out and transfer to Cork – Approx 3hrs
• Lunch Included en Route
• Rest of Day & Evening Free
• Overnight – Cork – Fota Island Resort
DAY EIGHT – 5 JULY 2018
• Breakfast
• Golf at Fota Island, Deerpark
• Overnight – Cork – Fota Island Resort
DAY NINE – 6 JULY 2018
• Breakfast
• Free Day – Cork City only 25mins away
• Overnight – Cork – Fota Island Resort
DAY TEN – 7 JULY 2018
• Breakfast
• Transfer to Old Head GC for Golf – Approx 35 Mins
• Farewell Dinner Provided this evening
• Overnight – Cork – Fota Island Resort
DAY ELEVEN – 8 JULY 2018
• Check Out
• Tour Ends
*All timings are approximate
Ireland 2018 – Cost
From $6,499.00 per person based on Twin Share occupancy
From $7,775.00 per person based on Single occupancy
Deposit Payable: $2,500.00 Per Person
2nd Stage Payment (1 December 2017): $1700.00 Per Person
Balance Payable No Later than 1st May 2018
Package Summary
• Tour fully escorted by Richard Mercer PGA Member.
• 10 Nights' Accommodation – Twin Share Basis.
• Breakfast Daily.
• 1 Lunch.
• 6 Rounds of Championship Golf at Royal County Down, Ardglass, The K Club, , Druids Glen, Fota Island and Old Head.
• Welcome & Farewell Dinner (inc Awards presentation)
• All Ground Transportation (Excluding Airport Transfers)
ENQUIRE NOW
GTC