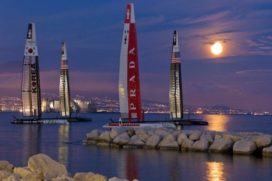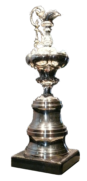 Click here to view our America's Cup 2017 FLYER
AMERICA'S CUP – BERMUDA 2017
Comprised of over 180 islands, Bermuda's rich nautical heritage is the perfect setting for the 35th edition of the prestigious America's Cup. With 5, 7 & 12 night packages, from the Qualifiers through to the Finals, we have what you need to cheer on Team New Zealand as they seek retribution on Team Oracle. However, with the dangerous British-based Land Rover Ben Ainslie Racing team showing early signs of dominance, this edition of the America's Cup looks set to be one of the most dramatic, and here's your chance to be there!
With our packages, enjoy the races from the crew's perspective with on-water spectating & you are free to chose from a wide range of hotels.
What are you waiting for? Enquire now!
Being there, it's EVERYTHING
---
THE QUALIFIER PACKAGE(S)
5 Night  :  25 – 30 May //or// 1 – 6 June
5 night's accommodation at your choice of hotel
Round trip airport transfers
Officially Supplied Spectator tickets aboard our exclusive boats (depending on package date):
Complimentary official America's Cup cap
7 night  :  25 May – 1 June //or// 1 – 8 June
7 night's accommodation at your choice of hotel
Round trip airport transfers
Officially Supplied Spectator tickets aboard our exclusive boats (depending on package date):

27, 29 & 31 May
2, 6 & 7 June

Complimentary official America's Cup cap
THE CHALLENGER PACKAGE(S)
5 Night  :  8 – 13 June
5 night's accommodation at your choice of hotel
Round trip airport transfers
Officially Supplied Spectator tickets aboard our exclusive boats (depending on package date):

10 & 11 June – Challenger Playoffs & Final

Complimentary official America's Cup cap
7 night  :  6 – 13 June
7 night's accommodation at your choice of hotel
Round trip airport transfers
Officially Supplied Spectator tickets aboard our exclusive boats (depending on package date):

7, 10 & 11 June – Challenger Playoffs & Final

Complimentary official America's Cup cap
THE FINALS PACKAGE(S)
5 night  :  15 – 20 June – FIRST WEEKEND OF THE FINALS
5 night's accommodation at your choice of hotel
Round trip airport transfers
Officially Supplied Spectator tickets aboard our exclusive boats (depending on package date):
Complimentary official America's Cup cap
7 night  :  20-27 June – SECOND WEEKEND OF THE FINALS
7 night's accommodation at your choice of hotel
Round trip airport transfers
Officially Supplied Spectator tickets aboard our exclusive boats (depending on package date):
Complimentary official America's Cup cap
THE ULTIMATE FINALS PACKAGE
12 night  :  16-28 June
12 night's accommodation at your choice of hotel
Round trip airport transfers
Officially Supplied Spectator tickets aboard our exclusive boats (depending on package date):

17 & 18 June
24 & 25 June
26 & 27 June

Complimentary official America's Cup cap
---
Package Prices – based on twin share
Qualifier 5 Night: from $3,090 pp
Qualifier 7 Night: from $4,335 pp
Challenger 5 Night: from $3,090 pp
Challenger 7 Night: from $4,335 pp
Finals 5 Night: from $3,495 pp
Finals 7 Night: from $4,990 pp
Ultimate Finals 12 Night: from $8,715 pp
ENQUIRE NOW